Mulu National Park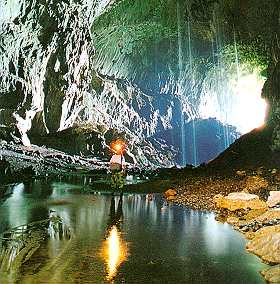 Photo: The Deer Cave located in the Mulu National Park
The Mulu National Park is one of Sarawak's greatest attractions. Mulu's major claim to fame is its spectacular limestone caves. The caves of Mulu command a long list of superlatives including the world's largest cave passage (the Deer Cave), the world's largest natural rock chamber (the Sarawak Chamber) and the Clearwater Cave, the longest cave system in South-East Asia.
The spacious Deer Cave at 1000 metres wide and 120 metres high can contain London's St Paul's Cathedral five times over. The 60 metres high "shower" continuously pouring from the roof near the "Garden of Eden" is one of the many spectacular views within the Cave.
The Sarawak Chamber can accommodate 40 Boeing 747 aircraft.
Besides the magnificent displays of limestone formation of stalactites and stalagmites and Land Cave and Wind Cave, Mulu National Park is also a paradise for naturalists and adventurers who love jungle trekking and mountain climbing. The Park has 1500 species of flowering plants, including 170 species of wild orchids and 10 types of pitcher plants. There are 67 species of mammals and 262 types of birds, including all eight species of hornbills.
Miri and Limbang are the two main entry points to Mulu National Park. From Miri, visitors can either fly by scheduled Twin Otter flights operated daily by MAS or take the express boat and motorised-longboat all the way to Mulu.